Shopping Cart
Your Cart is Empty
There was an error with PayPal
Click here to try again
Thank you for your business!
You should be receiving an order confirmation from Paypal shortly.
Exit Shopping Cart
The Truth you will not be told
| | |
| --- | --- |
| Posted by bbedcenter on March 14, 2013 at 12:00 AM | |
When an intelligent being visits a virtual site supposed to belong to the BB "friends", whether FB group page, or another forum, the absence of a lively "discourse" or "insightful" investigation will stand out almost inmediately. All one will read is "inspirational" quotations, mainly extracted from Laitman's books or classes, and sometimes from Rabash's writings or one of Laitman's favorite authors. 
The quotes below are from a particular discusssion in a Bnei Baruch FB group. The reason why there was any "discussion" whatsoever is because a couple of people had been questioning the meaning of the group's slogans, and the "core" directors were trying to quiet them down or else shun them out the group. These people were asking questions that required analysis, assessement and independent use of the mind for thinking purposes, but Laitman's dogmtic doctrine is based on a 'NO THINKING ALLOWED' principle, that must be followed to the T. The masses are told that thinking does not belong to "spirituality", because it can never be "rationalized". Rationality is only a sign of how far from spiritual considerations a person is.
At  BBKabbalah-TheTruth  we welcome anybody from Bnei Baruch to show us how we may be mistaken in our assessement, by rationally explaining to us how the encouragement and development of intelligent and clear thinking is a valued asset in the Bnei Baruch's organization spiritual path. We are not censoring or screening their participation and their comments in our site. 
"BB FOLLOWER 1"

After the recent stream of comments on the BB xxxx Group, administrators thought it best to have the group and contents reviewed by BB Israel. Serious concern was shown and we were asked to make the following guidelines clear:

 

"...The purpose and goal of the group is to strengthen us, give us a place to hear some enthusiastic comments, share information, love and unity, and of course support each other!

 

The most basic ground rule that RAV is always stating is this: when someone speaks against the Rav, books / sources, and the Group this is the time to throw him / her out! no question asked..."

 

ANOTHER FOLLOWER'S COMMENT:

"I think the guidelines are pretty clear. You only have to follow them as your free choice. And I will as mine."

 

FOLLOWER'S 3 CLARIFYING COMMENT:

"BB Israel just removed 6 women from the Group who went after their own opinion not following Rav's and the group's advice. They announced it during the Shabbat. They [meaning the 6 women] segregated themselves and set up their own rules. everything happens in the Group [meaning what is NOT following the group's rules, is NOT "spiritual"]".

 

FOLLOWER 4 MAKING SURE HE IS INSPIRING:

" Every moment is a NEW one. I for one rejoice in the fact that we are a group. We can and must see ourselves as the smallest and the group as the greatest of the generation. And in this light Inspire each other :-)"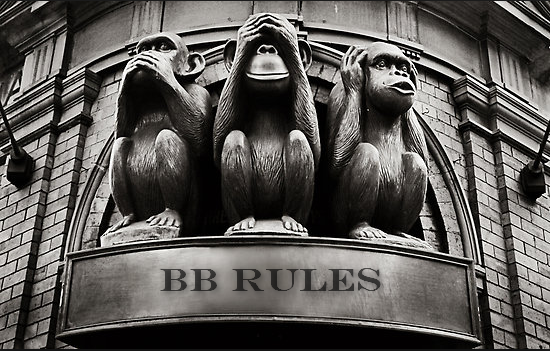 Categories: None
/