Shopping Cart
Your Cart is Empty
There was an error with PayPal
Click here to try again
Thank you for your business!
You should be receiving an order confirmation from Paypal shortly.
Exit Shopping Cart
The Truth you will not be told
| | |
| --- | --- |
| Posted by bbedcenter on March 28, 2013 at 11:05 AM | |
We will now begin a series of posts facilitating information that would be very hard for people to find and gather on the Internet, because one of Bnei Baruch's most powerful strengths is the amount of people they have working on SEO (Search Engine Optimization) strategies. They "recruit" members to "disseminate", which in BB's jargon is the equivalent of "bestowing". This dissemination is very simple at the ground level of the "masses". They just get hundreds of people to spend from one to an unlimited number of hours a week placing little comments with links to their sites in all sorts of social media, and also creating blogs and minor websites, and they send massive emails telling members to check "Like" buttons or make supportive comments. This amounts to THOUSANDS of weekly hours that BB gets FOR FREE out of the work of all these followers, who believe they are "bestowing" and becoming "closer to the Creator". Because of these constant global work and actions that BB squeezes out of their followers, Bnei Baruch's sites come up on top of any search about kabbalah, or about Bnei Baruch itself, and other testimonies will be buried under BB's own websites and propaganda.
In reality, we could say that people are not necessarily "lied" to, because Bnei Baruch's ideology does preach that people are "COGWHEELS" in a spiritual MACHINE. One does not have to be very bright to understand that if people are viewed as a mechanical object such as cogwheels, they are simply considered mechanical pawns with no more awareness than their obedience and subordination to their "upper" management. These mechanical cogwheels are used by the "master" of the machine: Michael Laitman, and not by any true Creator of Life. If we view people differently from Androids, Human Intelligence would lead us to think that a true Creator of Life does not operate a "machine", with parts functioning mechanically like robots. A truly Loving Creator of Life would obviously operate a LIVING ORGANISM with sentient and thinking creatures fully aware and freely participating in His actions and, most importantly, HIS INTELLIGENCE, without coercion or threats that would keep them in fear of being "expelled" from "spirituality" until they obey. To a rational mind, a metaphore of mechanical functionality does not convey a compassionate source. Does anybody think that a Loving Creator would seek to create an organism with an irrational mind and an insane heart, or with a coherent and sound ability to reason the "heart" into kindness? The latter option is certainly not part of BB's ideology.
Let's now beign with some thoughts posted online by different sources, including former BB members not associated with this website, and which would not be easily found under the overwhelming number of sites that Bnei Baruch succeeds to place in the first pages of any Google Search:
2010-11-12, Damla: "I have come to dislike and detest the word israel and jew after meeting Bnei Baruch Cult. I was always amazed about what could be the people's problem with this israel and jews. After spending pretty much of time with Bnei Baruch provided environment I have not only learned hatred (and nothing more) but how a person does not have a single friend on this earth. I could never imagine that there could be so much hatred in this world. Creating an environment such as Bnei Baruch's is no less a crime than putting people into torture chambers and talking to them about their "freedoms" just to mock with them as they go through enourmous mental and bodily sufferings.
they talk about teaching the meaning of our lives..What they only teach is hatred. since talking about world peace and love is left to those groups this is the only proof that there is no god and goodness in this universe."  http://en.allexperts.com/q/Kabbalah-3437/2009/8/f/Ashlag.htm
And let's illustrate this post with an image that shows what Laitman and BB think of the "purpose" of people's life: to become a cogwheel in their spiritual machine. Image is from their political site, arvut.org, in Israel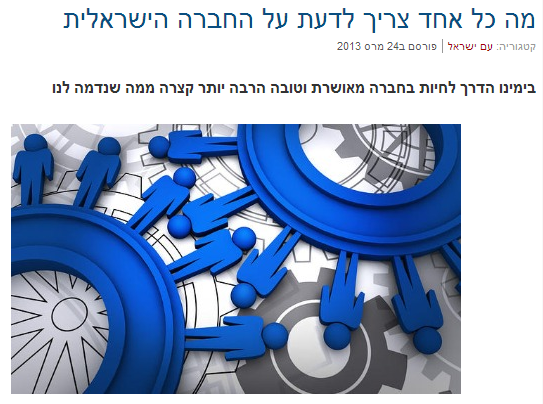 Categories: None
/