Shopping Cart
Your Cart is Empty
There was an error with PayPal
Click here to try again
Thank you for your business!
You should be receiving an order confirmation from Paypal shortly.
Exit Shopping Cart
The Truth you will not be told
Back in November of 2012, Michael Laitman wrote an article posted on his blog, entitled "Hurricane Sandy: The US Vs. Nature". Laitman did not miss his opportunity to take advantage of the then latest natural disaster in the United States, Hurricane Sandy. He used it as usual to encourage people's terror and keep them in fear of themselves, so that he can deceptively manipulate such fear into subliminal coercion and capture a naive audience which has just been hit by physical and emotional hardship. Laitman always takes advantage of opportune vulnerability to (mis)lead people into looking up to him for guidance in how to "fix" themselves, particularly in order to not "anger" Nature.
From Hurricane Sandy: The US Vs. Nature posted on November 2, 2012:
But generally speaking, Americans must understand that something is happening with the US. Once it was a dream, a model of democracy, and the search for something better. Despite all the dirt that our ego brings, no matter what it touched, there was also something good. But the positive aspect came to an end long ago when it turned into the exploitation of the whole world in order to satisfy the needs of Americans who are also proud of this situation.




Lately this phenomenon has reached such dimensions that in the current circumstances the US has no right to exist. So it turns out that in everything that you do, you harm others, and it is only in order to gain a bit more, even if you actually don't need it. This approach is unthinkable since it is totally opposite from nature and doesn't lead to correction.



The unique genius of Laitman rests on how artfully he distorts words, throwing semantic smoke that generates the following unconscious thought process:
 First, he brings in confusion skillfully injecting a lack of linguistic clarity. His speech manipulates his audience to think in undefined broad terms such as "Nature". In his lectures, Laitman claims to lead a scientific "spiritual" enterprise. As a scientist then one would have to ponder on questions such as: "what is this "nature" that I am so badly angering? What could I have possibly done that deserves such a cruel and unusual punishment? What horrible crime are these poor unaware victims guilty of?" But in reality Laitman is appealing to popular understandings, NOT to scientific thought. Popular understandings are the result of centuries of unconscious cultural conditioning. When it comes down to "spiritual" discourse, the term "nature" is a word used in pagan worship, NOT in scientific and objective thinking or in Jewish tradition. In the true scientific community of social sciences, the dilemma is actually called "Nature vs. Nurture". The meanings in this case are well defined for us within parameters given by a scientific (objective) context, and those meanings are precisely opposite to Laitman's populirized pagan use of the word "nature". Scientifically speaking, when we investigate the social essence at the core of human life, nature stands for the individual innate qualities of a person, and nurture represents the environment which provides the person with experiences. We can now easily see how Laitman distorts this very basic scientific understanding to mean exactly the opposite. In Laitman's manipulation, nature is the environment, and thus going against it will bring individuals disproportionate and horrendous punishments from "mother nature". Not only is nature the environment, but the convoluted part is that for Laitman it is NOT the natural environment of earth and the cosmic universe. In Laitman's twisted version of kabbalah, nature is the ARTIFICIAL ENVIRONMENT CREATED BY MAN, in other words, SOCIETY is Nature. This semantic trick works like a spell, and unconsciously leads naive and fearful people to think that in order to affect natural disasters (which are truly natural, and not artificially created, as opposed to any human construct in society) one needs to submit to some external social authority. And what better authority than the one that claims to be in possession of The One and Only Authentic Method to bring the ultimate solution to human misery? That is, Michael Laitman and his Bnei Baruch kingdom.
Secondly, once the semantic smoke of confusion disarms the thinking process of an eager and heartbroken listener, Laitman throws in some "doublespeak". For example in this case he tells us that at some undisclosed point in time America "was a dream, a model of democracy', yet "in everything that you do, you harm others, and it is only in order to gain a bit more, even if you actually don't need it" So... a scientist, or any objective thinker would have to ask: "Is it America, or is it me? Was I ever good, just like America was, and do I now get any credit for being from another country? Is spirituality a matter of citizenship? Are Americans the bad ones, exploiting and enslaving a world oppressed by American greed? So is it me, or is it "America" and who exactly is this elusive "America"?"
 Thirdly, and most importantly, Laitman carefully uses linguistic tricks or 'spells' to separate "The Wisdom" from the masses. After the strategy of doublespeak a person is likely to have lost any rational inclination, or at least abandon any desire to publicly question Laitman's claims, for fear of being accused of provoking nature's most destructive wrath and causing a major natural catastrophe. So here is the moment to establish a position of authority, by marking a difference between the body of mass followers, and the head, the enlightened wise authority that must guide them, so finally Laitman states: "This approach is unthinkable since it is totally opposite from nature and doesn't lead to correction." What beautifully crafted combination of undefined "foggy" meanings, doublespeak, and self-appointment to world lordship!! Here Laitman artfully secures his position as the ultimate authority, by separating himself from those who are "opposite from nature" and uncorrected, because... For whom is this approach unthinkable if not for one who is already "corrected" and in consonance with the nature that must be obeyed? And who could that be but the very messenger bringing these news to the people, like a Moses bringing the Tablets of Commandments?
Laitman accomplishes such sophisticated mind control techniques in only two short paragraphs. Can we now imagine what it does to people when all they do, all day long, is unquestionably following Laitman's words processed through Bnei Baruch committees and managers and implemented with direct orders in The Group?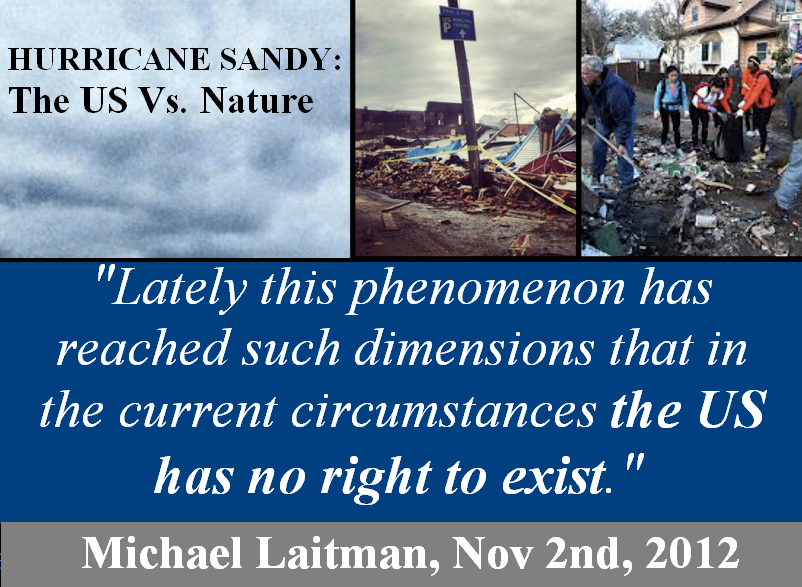 Categories: None
/